Xflam, Syntactic Technology
XFlam is a breakthrough product in the field of fire-resistant panel. It is a syntactic foam with enhanced fire resistance, excellent mechanical properties, low toxicity and is completely recyclable.
Xflam materials produce a radical new range of insulation products for use by the construction, transport and packaging industry.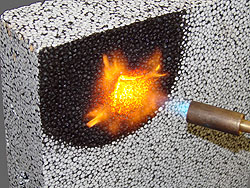 Xflam is based on syntactic technology, using specific Phenolic resins with various filling materials to provide the necessary properties of the composite blend. Various filling materials are used in Xflam insulation products, including EPS bead and other specialist polymeric substances.

The breakthrough in the development of Xflam has been the ability to produce acid free syntactic phenolic foams with enhanced fire resistance, excellent mechanical properties and sound environmental performance.

Xflam insulation products are available in a range of properties, created by varying the constituents and their relative proportions in the mixing and coating process. This allows Xflam to optimize the materials for the particular application and set of requirements.

Xflam is easy to cut and machine, offers excellent bonding characteristics and has good mechanical properties. Surprisingly, given the degree of phenolic resin in Xflam the product has no acidity, measuring a pH reduction of 0.4 during a standard leachate test. This new product offers to manufacturers, specifiers, and contractors an alternative to mineral rock fibre and PIR. It is ideal for those clients who prefer the mechanical properties of EPS.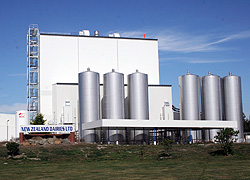 Case Study - Nutritek - NZ Dairies Ltd
Nutritek are an international processor of dairy products primarily for infant feeds. In 2007 they undertook to expand and convert a food processing plant into a dairy factory.
More info...